Friday, December 20, 2002
------------------------------------------------
Had an interesting discussion with Oneal last night regarding the Geonosian Arena battles. He is of the opinion that all the killings were justified. He answered two of my disturbing questions. One: Obi-Wan finished off the Acklay after cutting off its legs to put it out of its misery. Hadn't quite thought of it that way. Second: Jango Fett was a big threat, a dangerous adversary that is a threat to all the Jedi in the Arena. Thus, Mace Windu's killing of him was justified. But my question regarding that one remains. Why decapitate Jango when he could have killed the bounty hunter off in another manner? Guess I'd better start rereading that magazine article again to try and figure out what the rules really are. But in my understanding, it is still a highly avoided move, decapitation. At least the lightsaber cuts through the head cleanly. For sure, Jango won't be haunting the Geonosian Arena as Nearly Headless Fett. LOL.
~*~*~*~*~*~*~*~*
Cool!
Adrian
is constructing a Star Wars-themed
belen
. Awwww.... I hope he gets a Shmi Skywalker soon so it'll be complete! :)
~*~*~*~*~*~*~*~*
Artoo was in a slumber party last night! Gasp! Hrmmm... Maybe I should have a slumber party too. Invite him over. Heheh. He will surely liven up the party! LOL. And no, Artoo's master, ditch the recording devices! ;)
~*~*~*~*~*~*~*~*
Will be trying to watch the Star Wars fanfilms this weekend (seven CDs, films all in alphabetical order! LOL. I appreciate that, obsessive-compulsive Star Wars fan that I am. Heheh. Thanks, Oneal. :) ). But I think I'm missing "George Lucas In Love". Hrmmm....
~*~*~*~*~*~*~*~*
Master Yoda has been nominated for Best Digital Acting Performance by the
Broadcast Film Critics' Association
. Hahah! He has some pretty stiff competition though: Dobby and Gollum. LOL. I think the true battle though, is between Yoda and Gollum. But come to think of it, Gollum has a better chance. See, his movements and expressions were based on the actor who plays him. They digitized Gollum using the actor's movements. Yoda on the other hand, was probably just programmed, with not much real life basis. It's okay though. Yoda kicked butt with that lightsaber duel. Heheh.
~*~*~*~*~*~*~*~*
What a breathtaking sight from Saruman's point of view! Wow!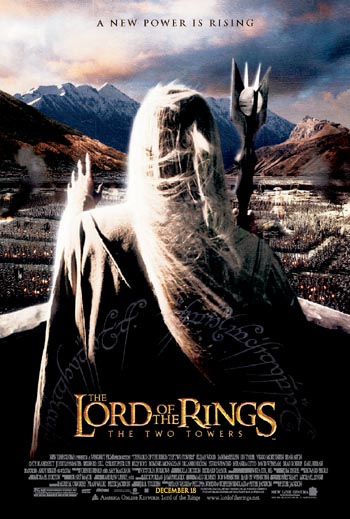 Ah. The Two Towers.... sends shivers up and down my spine....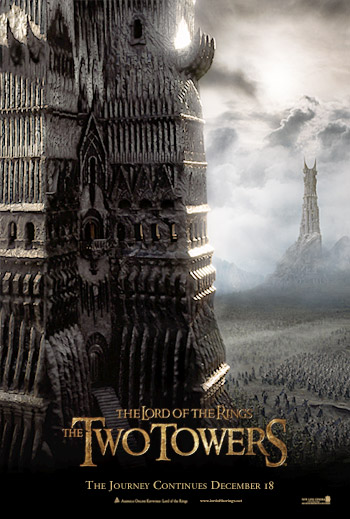 ~*~*~*~*~*~*~*~*
Seems like ever since, the first day we met
There is no one else I think of more than you
Can't seem to forget, can't get you out my head
Cause the verdicts in I'm crazy over you
How can one be down, tell me where to start
Cause everytime you smile, I feel tremors in my heart
I have but one concern, how can I get with you
Til my day comes, here's what I'm gonna do.
Be sittin up in my room
Back here thinkin bout you
I must confess, I'm a mess for you
Be sittin up in my room
Back here thinkin bout you
I must confess, I'm a mess for you.
-- "Sitting Up In My Room" by Brandy